1594
The death of Ferdinando Stanley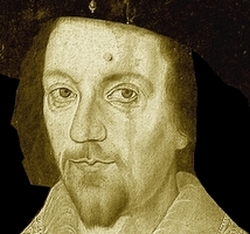 By far the most prominant noble family in the County were the Stanleys, at this point having made a number of clever alliances giving the present generation a very real claim to the English throne. The major title associated with the family was that of the Earl of Derby, which was conferred upon the first Earl, Thomas, by a grateful Henry VII after Lord Stanley's decisive intervention on his behalf at the Battle of Bosworth in 1485.
Tragedy struck the Stanleys on 16th April 1594 when the 5th Earl of Derby, Ferdinando Stanley, died after a short and mysterious illness, which some suspected had to do with the nefarious activities of powerful witches. In particular, the chronicler John Stowe, who provides an expansive account of His Lordship's final illness, gathers a good deal of evidence for the witchcraft hypothesis: -
The first of Aprill being the mondaie before his honor fell sicke, a woman offered unto him a supplication, or petition, wherein her request was, that it would please him to give, or assigen her a dwelling place neere unto himselfe, that she might from time to time reveale unto him such thinges with speede, which God revealed unto her for his good. This petition was thought vaine therefore refused.
[...]
On the fift of Aprill, in his chamber at Knowsley about five of the clocke at night, there appeared sodainly a tall man, with a gastly and threatening countenance, who twice or thrice seemed to crosse him, as he was passing through the chamber, and when he came unto the same part of the chamber where this shadow appeared, he presently fell sicke, and there vomited twice.
The 10. of Aprill about midnight, was founde in his bed chamber by one master Halsall, an Image of waxe with haire, like unto the haire of his honors head, twisted through the belly thereof, from the navell to the secrets: This Image was spotted, as the same master Halsall reported unto master Smith, one of his secretaries, a daie before anie paine grew, and spots appeared on his sides and bellie. This Image was hastely cast into the fire by master Halsall, before it was viewed, because he thought by burning thereof, as he said, he should relieve his lord from witchcraft, and burne the witch who so much tormented his lord, but it fell out contrary to his love and affection, for after the melting thereof, he more and more declined.
The 12. of Aprill, one Iane a witch demanded of master Goborne, whether his honor felt no paine in his lower parts, and whether he made water as yet or no: and at that verie time notwithstanding all helpes, his water utterlie stopped, and so remained till he died.
[...]
A homely woman, about the age of fiftie yeeres, was found mumbling in a corner of his honors chamber, but what God knoweth. This wise woman (as they termed her) seemed often to ease his honor both of his vomiting and hickocke, but so it fell out, which was strange, that when so long as hee was eased, the woman her selfe was troubled most vehemently in the same maner, the matter which she vomited, being like also unto that which passed from him. But at the last, when this woman was espied by one of the doctors tempering and blessing (after her maner) the juice of certaine herbes, her pot where into she streined the juice, was tumbled downe by the said doctor, and she rated out of the chamber, notwithstanding she did still saie that she would not cease to ease him, although she could not perfectly helpe him, because hee was so strongly bewitched. [...] He himselfe in all the time of his sicknesse cried out that the doctors laboured in vaine, because he was certainly bewitched. He fell twice into a traunce, not able to moove, hand, head, or foote, when he would have taken physicke to doe him good. In the ende, he cried out often against all witches and witchcraft, reposing his onely hope of salvation upon the merits of Christ Jesus his Saviour.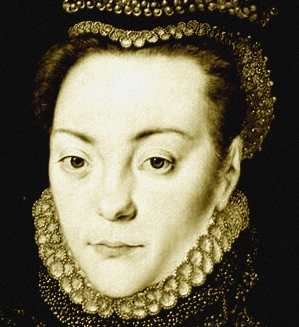 Ferdinando's mother was Lady Margaret Clifford, the daughter of Henry Clifford, Earl of Cumberland, and Lady Eleanor Brandon, a daughter of Sir Charles Brandon, the great friend of Henry VIII, and Mary Tudor, dowager queen of France and younger daughter of Henry VII. Lady Margaret was a cousin of Jane Grey, who was briefly queen of England. Thus, Lady Margaret was recognised as having a strong claim to the English throne, then occupied by the redoubtable Elizabeth I, in accordance with the Third Succession Act of Henry VIII. As such, Lady Margaret, a practicing Catholic, became the unwitting focus of a number of whispers at court during 1579 and 1580, as the Elizabeth's advancing age made it apparent that no prince or princess would be emerging from the loins of the "Virgin Queen."
However, these mutterings came to have a sinister side, with Lady Margaret implicated in certain sorceries, the ends of which were to determine what would happen in the wake of the Queen's demise. These testimonies shed some light on what part - if any - Lady Margaret may have played in these cabals.